Photos by RJ Deslate, W
ords by Alvin Thai, Video by Mikey Dang of PVR Motorsports
We all remember our first love don't we?
The one you had a crush on for days, eyeing her at every glance, embracing every moment, just hoping to have her one day. For Bethuel Montanez he gets to hop inside and ride his first love everyday.

It's not everyday that I enjoy the site of an EG6, especially with so many rolling around it's hard to find one with a distinct essence of quality, unity, and spirit. B12′s EG has been carefully crafted over 9 long years of hard work  into the immaculate and beautiful machine before you. As flawless as it looks in pictures, like any work of art, it can't be fully appreciated until seen in person. He washes it weekly, covers it nightly, and waxes it twice a month. In person you can really see how much he takes care of his first car and first love.
The wheels before you are an incredibly rare set of AUTHENTIC SSR Reverse Mesh, no Axis OG-San wheels here. The car is slammed so low to compliment the wheels that he had to cut a hole into his engine bay so that the control arms may clear. They actually stick up about 2 inches into the engine bay and knock on the hood while driving! Only 1/2 a tank of gas is allowed at fill up or else the extra weight will cause excess rubbing. This car is allowed only 1 driver at the top speed of 25mph, now this is what I call dedication.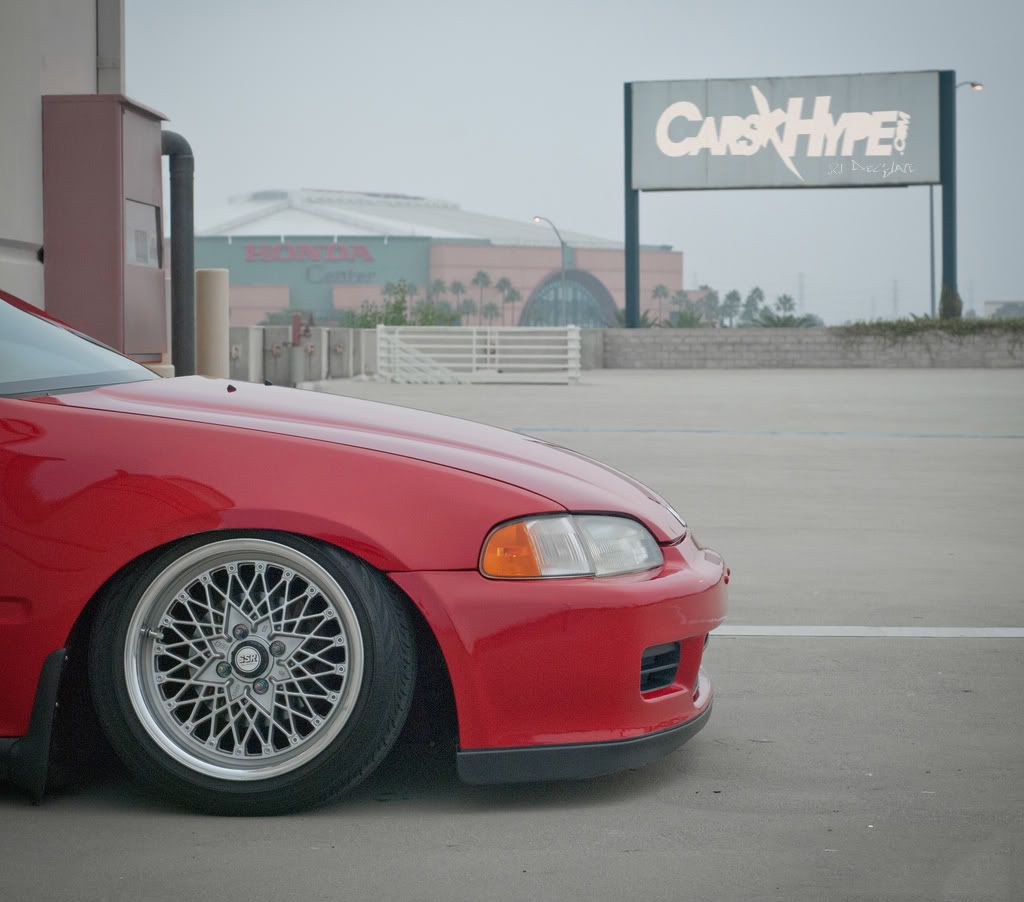 The perfected wheel setup before you was formed over at least 4 years of experimentation ranging from stock Enkeis, Advans SA3Rs, BBS RAs, Mugen NRs, and Sprintheart CPs he's owned them all. He searched for the SSRs for over 2 years until an ad finally came up in Texas. He then  immediately jumped and pounced on them like a predator that stalked it's prey for so long.
Keeping the car to OEM spec and quality, the interior is relatively unmodified except for a few JDM goodies including the uber rare center console glove box. Stickers were confined to the dash glove box to maintain a clean form without molesting the body with collage sticker static.
Perhaps the most important mod for the interior is a limited edition Ninja Turtles movie. It keeps us writers and photographers entertained to a high level while shooting B12′s car, offering a fulfillment of childhood memories.
The rear of the car sports a very quiet Apexi World Sport 2 exhaust with a beautiful mellow tone to match the low and slow lifestyle. The rear is also equipped with a carbon fiber wing and original "Civic VX" decals. Not displayed in the next picture is the amazing polished suspension hanging under the car right beside the Apexi exhaust, but you'll just have to wait to see it ;].
Notice that there are no JDM parts on the exterior of the car? This EG is original in that it does not follow the fancy JDM exterior trends. Although B12 had a complete JDM exterior setup in the past, he removed it when the ebay brands came out dismembering the quality and uniqueness of JDM Honda parts. While I admit JDM exterior is beautiful, it is refreshing to see a stock body EG6 slammed and simply clean.
As the sun rose, we got kicked out of our shoot location and relocated to a Coca-Cola factory complimenting the recently repainted Milano red beautifully. Here you can really see the paint shimmer in the sun and how immaculate the car really is.
On a side note: don't try climbing barbed wire for better photo's, it will cut you, that's why you see me jumping around in the video by the way.
Remember the suspension I mentioned earlier? Rolling behind this thing is almost blinding with the ASR bar and polished control arms. No fancy trendy colors here just a simple and classic theme to accompany the rest of the car matching the SSR wheels.
Now onto rolling shots!
Power Plant:
98 Spec. USDM B18C1
98 Spec. Type R Valve Cover with Faux C/F Spark Plug Cover.
68mm Ported Skunk2 S-Pro Manifold.
68mm Erick's Racing Throttle Body.
Integra Type R OEM Header.
Skunk2 Chipped ECU
Apex'i World Sport 2 Exhaust.
Suspension:
Custom Progress Coilovers.
Koni Yellow Sport Short Shaft Struts.
Custom Top Hats on all 4.
Custom Engine Bay and Frame Work (For Clearance)
Custom wheel wells for tire clearance.
Energy Suspension Bushings.
BuddyClub Rear Camber Kits.
ASR Fully polished Subframe.
BWR 1st gen Lower Control Arms.
Benen Industries Polished Lower Tie Bar.
Carbing Front and Rear Upper Strut Bars
Exterior:
OEM SIR Headlights.
OEM USDM Corner Lights.
OEM HOP Mud Guards.
OEM SIR/EX Front Lip
OEM Honda Access "Monsoon-Guards"
OEM JDM Antenna Block-off
OEM Milano Red License Plate Delete Gromets
Painted OEM Honda R-81 Milano Red
New Honda OEM Emblems.
New Honda OEM Exterior Weather Strips/Trim.
New Honda OEM Windshield
Interior:
New OEM Carpet.
OEM EG VT-i Steering Wheel
OEM HOP Cargo Cover.
OEM HOP Single Stereo Din Block-Off Plate.
OEM Honda Access Double Din Center Console.
OEM Civic Floor Mats
JDM Honda Access Single Din Glove Box
JDM VIP Bubble Shift Knob.
Spoon Sports Yellow Stitched Shift Boot.
2000 EK Seats.
Rollers:
SSR Reverse Mesh 15×7.5 +1 Offset.
Project Kics NeoChro R26 27mm Open Ended Lug Nuts.
ARP Extended Studs.
10mm Kics Spacers x2
ICE:
JDM JVC Head Unit.
Thank you for reading, stay tuned for our update on the V8 1uz Corolla!
like us on facebook at facebook.com/carsxhype
- Alvin